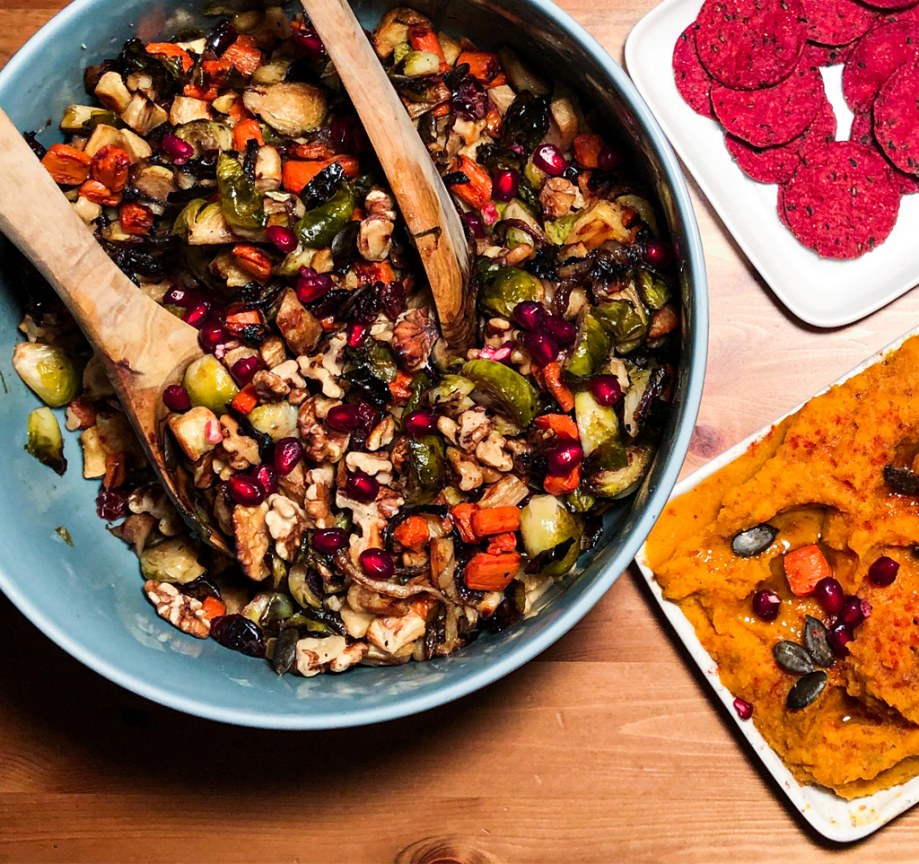 THANKSGIVING VEGETARIAN SIDES: CHEF TALK and COOKING PROGRAM on Roasted Vegetable Salad AND Sweet-Spicy Pumpkin Dip
Cuisine & Diet:
American, Dairy-free, Gluten-free, Hanukkah, Libyan, North African, Passover, Rosh Hashanah, Shabbat, Thanksgiving, Vegan, Vegetables, Vegetarian
The traditional American Thanksgiving meal goes back to 1621 when the Pilgrims and Native Americans came together at Plymouth for their first official autumn harvest celebration. Although a variety of wild game and fowl (venison, ducks, geese, and wild turkeys) as well as seafood (cod, bass, mussels, clams, and lobster) were a regular part of the diet and likely consumed during this first Thanksgiving celebration, a bounty of fruits and vegetables gathered during the fall harvest were likely as integral to the meal, if not central to the menu.
The most common vegetables that were prepared at the time included onions, spinach, cabbage, carrots, beans, pumpkin and squash. Corn — native to the Americas — was plentiful but likely served in the form of a sweetened cornmeal porridge as opposed to roasted whole. While potatoes (both white and sweet) are now a common ingredient in the Thanksgiving menu, these starchy root vegetables did not become popular until much later.
Fruits that were readily available such as plums, grapes, gooseberries, blueberries, and cranberries were also incorporated (although the sweetened cranberry sauce would not be prepared until decades later once sugar became more available). Pecans — indigenous to North America — became a valuable source of nutrition as well as a form of currency and trade for the Native Americans once the European Settlers arrived.
This interactive, hands-on seminar will teach you how to easily create two different types of vegetarian side dishes — one a dip and a second a salad — that are also vegan and gluten-free. Participants will come away with an increased understanding of how to incorporate seasonal, easy-to-find ingredients — such as carrots, squash, pumpkin, pecans, and cranberries — into healthier side dishes that are perfect for the fall and upcoming holidays!
MENU:
Roasted Vegetable Salad with Caramelized Onions, Toasted Pecans, and Pomegranate-Vanilla Vinaigrette
Sweet & Spicy Pumpkin Dip with Ginger, Cumin, and Jalapeños
GENERAL INGREDIENTS:
Butternut squash, fresh pumpkin or kabocha
Canned pumpkin purée
Jalapeno pepper (optional)
Pomegranate seeds (optional)
Lemon zest from one large lemon
Fresh garlic
Onion
Brussels sprouts
Carrots
Parsnips
White vinegar
Extra virgin olive oil
Balsamic vinegar
Vanilla extract
Pomegranate syrup/molasses, date syrup, or balsamic reduction (optional but suggested)
Raw or roasted pumpkin seeds or 2 teaspoons caraway seeds
Walnuts or pecans
Dried cranberries
Ground cinnamon
Ground ginger
Ground cumin
Fine sea salt or kosher salt
EQUIPMENT:
Small skillet
Baking pan
Peeler
Measuring cups and spoons
Cutting board
Chef's/chopping knife
Food processor
Rubber spatula
Measuring cups/spoons
Chef's knife and cutting board, for preparing vegetables
Large mixing bowl
Baking pan, for roasting vegetables
Small bowl or jar, for mixing dressing
Small skillet, for toasting nuts