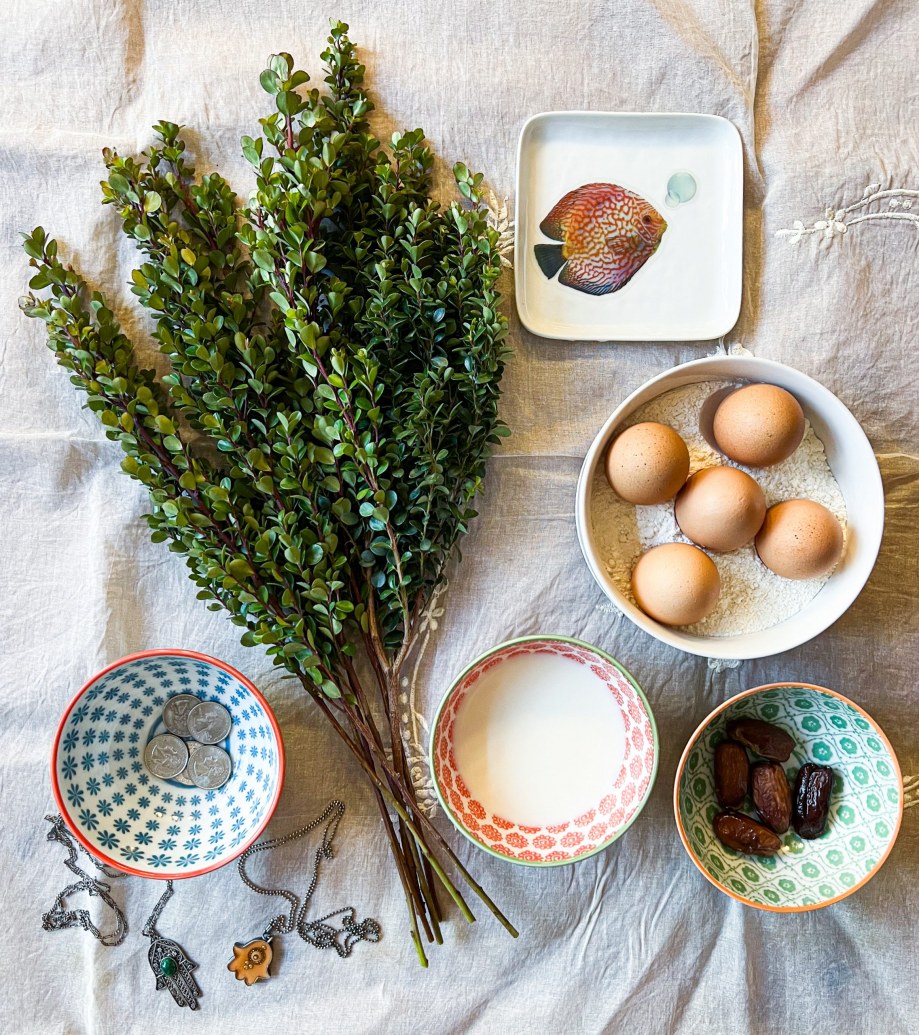 MIMOUNAH: A North African Post-Passover Celebration of Freedom, Spring, and Renewal w/Mufleta Flatbread Demonstration
Cuisine & Diet:
Algerian, Breads and Pastries, Jewish, Mimounah, Moroccan, North African, Passover
Celebrated at sundown on the eighth or final day of the Passover holiday (the seventh day for Reform Jews and those residing in Israel), Mimounah is a unique custom observed by the North African Jews of Moroccan origin to mark the conclusion of Passover. During this celebration foods forbidden during Passover are consumed as a way of symbolizing "freedom" (sweet leavened cakes and breads) over "slavery" (unleavened matzah). Originally a shared event between Arabs and Jews, Mimounah also represents hospitality and friendship. Jews would open their homes to the greater community and Arabs would share stalks of grain as well as yeast starter dough and a loaf of baked bread as gifts for their Jewish neighbors. On this special night, a festive table is covered with a white tablecloth and adorned with foods representing spring, prosperity, abundance, fertility, and overall good luck, while dishes containing yeast, including an assortment of cookies, pastries and yeast cakes drizzled with oil or leftover Seder wine, are the culinary highlight of this festivity.
Join me for a virtual Mimounah celebration as I discuss the varying traditions of Mimounah while demonstrating how to prepare traditional mufleta flatbreads with honey and butter — a delicious way to break the Passover bread fast. Feel free to bring along your own favorite Passover "break-fast" food (whether it be cookies, cake, bread, pizza, or other) and invite your friends and family to join in on the fun. (You don't have to be Jewish to participate!)
GENERAL INGREDIENTS:
All-purpose flour
Kosher salt
Sugar
Active dry yeast
Safflower or vegetable oil
Honey
Unsalted butter
EQUIPMENT:
Measuring cups and spoons
Large, sharp knife
Large mixing bowl and wooden spoon
Plastic wrap
10-inch non-stick skillet or frying pan
Thin spatula
Large baking pan or tray, for balls of dough to rest in oil
Large serving plate, for stack of Mufleta
Small saucepan, for melting butter and honey
Pastry brush, for brushing on melted butter mixture