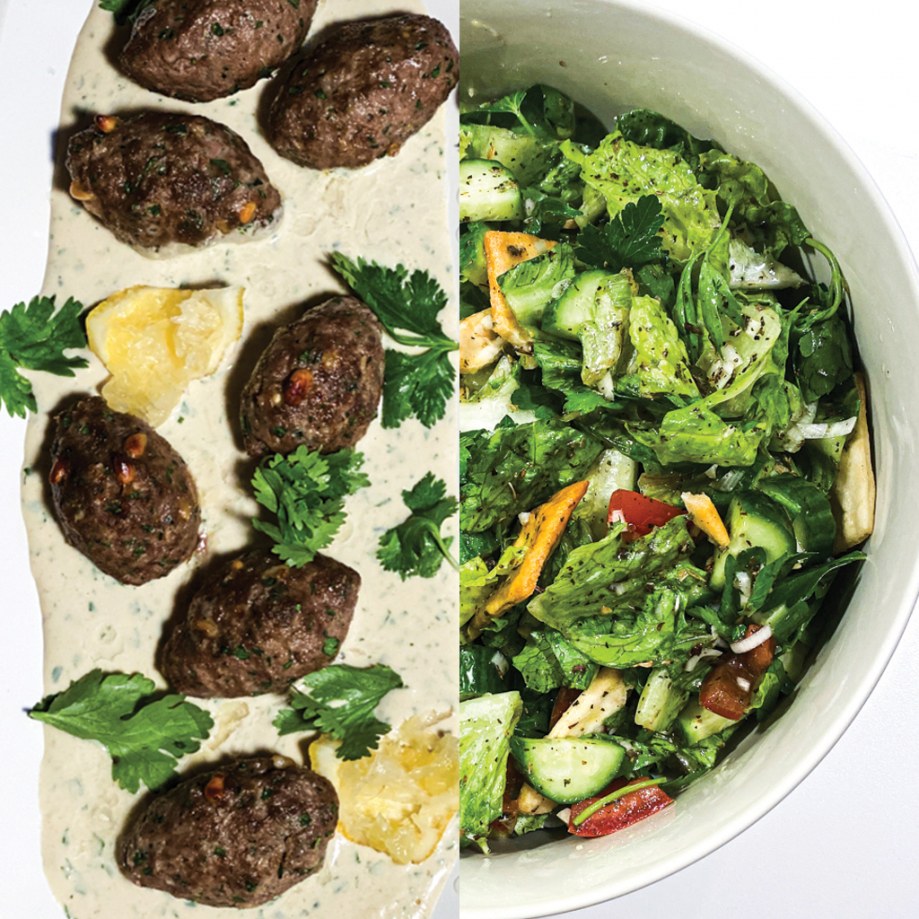 MID EAST BBQ: CHEF TALK and COOKING PROGRAM on Fattoush Salad, Lamb Kufte Kebabs AND Tamarind Iced "Tea"
Cuisine & Diet:
Dairy-free, Egyptian, Kid-Friendly, Lebanese, Meat, Mediterranean, Middle Eastern, Rosh Hashanah, Shabbat, Syrian, Turkish
Summer is just around the corner, and what better way to get ready for outdoor fun than a Middle Eastern inspired barbecue? Whether you are cooking from a grill in your backyard or your apartment kitchen, you can easily get into the spirit of the season with these simple and flavorful recipes!
The first barbecue goes back to prehistoric times in South Africa when early humans began cooking meats and vegetables over an open fire. Evidence discovered in the Middle East and Asia indicates a more complex technique of utilizing skewers for grilling marinated meats going back at least as early as the 17th century B.C.E.
The Arabic word kebab meaning "roasted meat" can be traced back to the ancient Mesopotamian word kababu meaning "frying" or "burning." A kufta kebab is a type of ground meat mixed with spices and herbs, formed into a torpedo or round ball, and grilled. Throughout the Middle East, North Africa, Mediterranean, and Central Asia home cooks as well as professional chefs take pride in their varied spiced and grilled meat dishes, complimenting them with fresh, colorful salads.
In this interactive hands-on seminar Jennifer will teach you how to easily prepare a spiced ground meat kebab with allspice, ginger and paprika, accompanied by a traditional herb salad with za'tar, mint, and pita chips that pairs perfectly with a tangy and refreshing drink of tamarind and lemon. Participants will come away with an increased understanding of how to arrange a balanced menu of bright and earthy flavors that brings the Middle East closer to home.
MENU:
Tangy Tamarind "Iced Tea" with Lemon

Fattoush Salad with Parsley, Cucumbers, Tomatoes, Pita Croutons, and Za'tar Mint Dressing
Lamb and Beef Kufta Kebabs with Allspice, Ginger, and Paprika with Tahini-Lemon Dressing
GENERAL INGREDIENTS:
Unflavored pita chips (optional but recommended)
Plain breadcrumbs or matzah meal (gluten-free okay)
Flatbread (such as Greek, Indian Naan, Mediterranean), for serving kufta kebabs (optional)
Ground beef or lamb (or mix of the two)
Pine nuts or pomegranate seeds
Tamarind concentrate/paste (resembles black strap molasses; not lighter Thai brands)
Superfine or regular sugar
Apple cider vinegar
Extra virgin olive oil
Ice cubes (for chilling tamarind drink)
Kosher or sea salt
Dried mint leaves
Za'tar spice mix/blend (green type such as Israeli blend; not red kind with sumac)
Ground black pepper
Ground allspice
Ground ginger
Ground sweet or smoked paprika, mild chili powder, or Aleppo pepper flakes
Onions
Scallions
Fresh mint leaves
Flat-leaf/Italian parsley or coriander leaves
Romaine lettuce
Lemons
Garlic
Tomatoes
Cucumbers
EQUIPMENT:
Measuring cups and spoons
Large chef's/chopping knife and cutting board
Medium mixing bowl, for blending kufta kebab mixture
2 to 3 dozen disposable wooden skewers or metal (optional; for broiling kufta kebabs)
Baking pan, for broiling kufta kebabs
Large pitcher and mixing spoon, for tamarind drink
Small bowl or jar, for mixing salad dressing
Small bowl and spoon, for mixing tahini dressing
Large serving bowl and spoons, to toss and serve salad