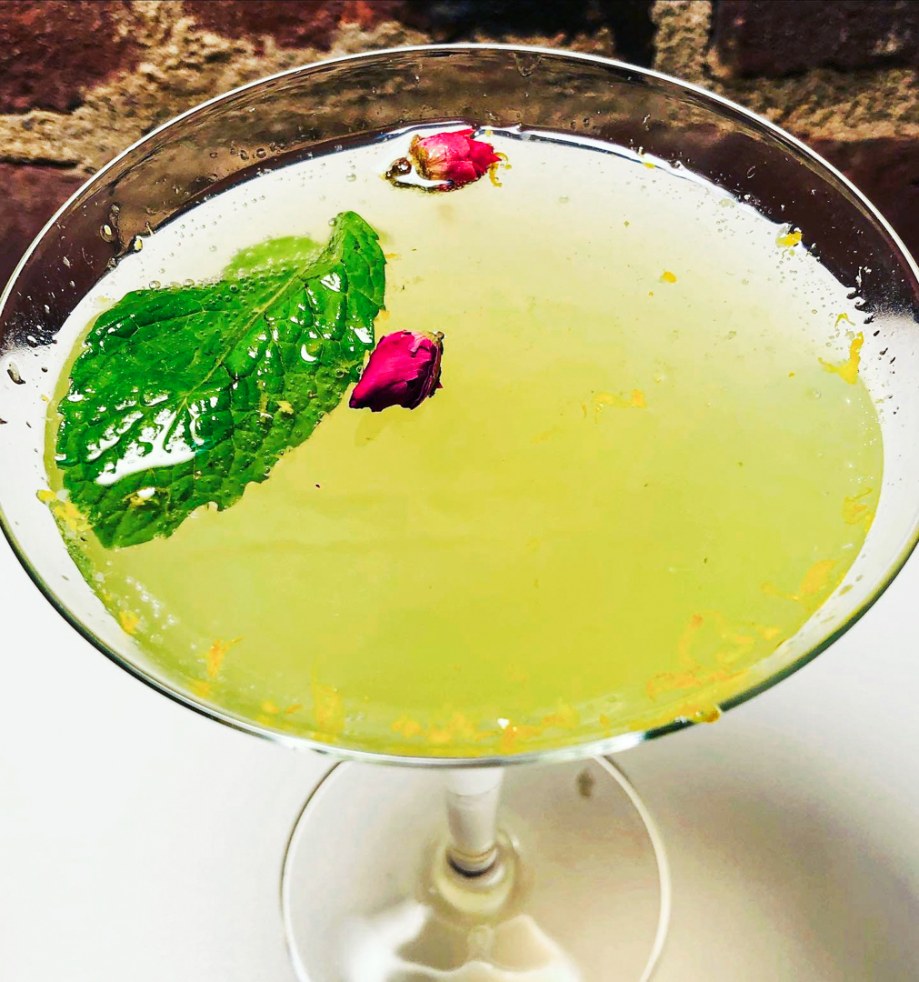 MEDITERRANEAN COCKTAIL PARTY: CHEF TALK and COOKING PROGRAM on Hummus, Feta Dip, Za'tar Pita Chips AND "Rose of Aleppo" Cocktail
Cuisine & Diet:
Hanukkah, Israeli, Lebanese, Mediterranean, Middle Eastern, Sephardic, Syrian, Turkish, Vegetarian
MENU:
"Rose of Aleppo" Gin Cocktail with Cardamom Syrup, Lemon, Rose Water, and Fresh Mint

Homemade Creamy Chickpea Hummus with Tahini and Lemon

Zippy Feta Cheese Dip with Garlic, Paprika, and Mint

Crispy Pita Chips with Olive Oil and Za'tar
The word "Mediterranean" conjures up images of balmy beaches with crystal clear seas and blue skies. Foods from this region reflect its temperate climate and coastal surroundings with bright flavors of lemon, mint and rose mingling with warm seasonings of garlic, paprika, and olive oil in a palate that is warm yet refreshing.
In this lesson students will explore how to create a simple spread of creamy hummus (made the traditional way using dried chickpeas), a zippy feta cheese dip with garlic, paprika, and mint, and crispy pita chips with za'tar and olive oil. A refreshing Mediterranean-inspired gin cocktail* infused with cardamom, rosewater, and mint will be paired with the chips and dips to round off a menu that will carry you off to a Mediterranean taverna along the sea.
In this interactive hands-on seminar Jennifer will show you how to have fun while preparing your own Mediterranean cocktail party. Participants will come away with an increased understanding of the popular flavors of the Mediterranean cuisine that they can easily prepare at home. Invite friends and family to join you in class to prepare the tasty snacks together, then meet up with them virtually or in person after the lesson to make a toast and enjoy on the terrace, deck, garden, or backyard!
GENERAL INGREDIENTS:
For Cocktail
Cardamom pods
Aniseeds
Dried rosebuds or petals (optional)
Sugar
Gin (Tanqueray, Bombay Sapphire, Beefeater
Rosewater
Ice cubes
Unflavored seltzer
Persian or Israeli cucumber (not waxed cucumber)
Fresh mint leaves
Lemon
For Hummus and Pita Chips:
Canned chickpeas
Garlic
Lemons
Jar tahini (sesame paste)
Extra-virgin olive oil
Kosher salt
Za'tar spice blend (green kind, not red with sumac added)
Whole wheat or white pita bread
EQUIPMENT for Cocktail:
Measuring cups and spoons
Large chef's/chopping knife and cutting board
2-sided jigger
Mortar and pestle or rolling pin and small Ziploc bag, for crushing seeds
Small saucepan, for preparing syrup
Small jar or air-tight container, for storing syrup
Muddler, for crushing cucumbers with fresh mint leaves
Zester/Microplane, for finely grating lemon and citrus squeezer
Large glass or liquid measuring cup, for mixing cocktail
Metal springed strainer or small mesh cone strainer (small enough to sit over a cup or glass)
1 martini glass or small cocktail glass, for serving
EQUIPMENT for Hummus and Pita Chips:
Food processor
Rubber spatula
Small bowl or jar, for mixing olive oil and spices
Pastry brush, for brushing oil on pita bread
Large baking tray or cookie sheet, for baking chips