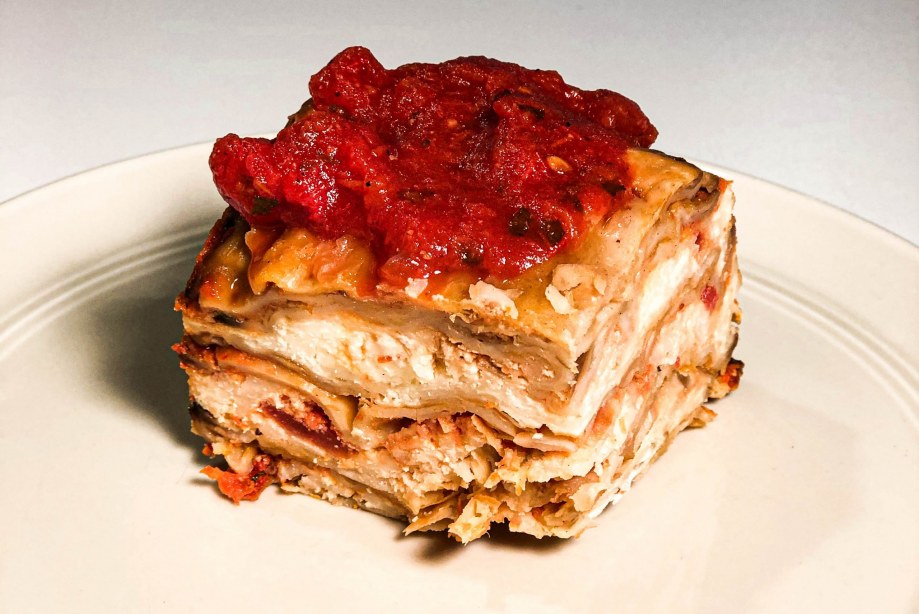 LASAGNA di PANE AZZIMO: CHEF TALK and COOKING PROGRAM on Italian Style Passover Matzah Pie with Crushed Tomatoes, Basil, and Pot Cheese
Cuisine & Diet:
Dairy, Italian, Jewish, Kid-Friendly, Mediterranean, Passover, Sephardic, Vegetarian
Passover is one of the most loved holidays in the Jewish calendar and celebrated by those from all streams of Judaism. While most Jewish holidays have particular foods associated with each celebration, the commandment to eat special foods (such as the unleavened "cracker-bread" called matzah) or reject others (such as basic leavened bread) gives food a central role in the observance of Passover.
Lasagna di Pane Azzimo is a Jewish-Italian twist on the traditional lasagna, replacing the everyday long flat pasta strips with softened matzah squares that when baked resemble a type of kugel or layered pie. Whether you are looking for a Passover-friendly meal for the week-long holiday, or are interested in learning how to prepare a simple vegetarian dish for all year round, this will become your go-to pie! Participants will come away with an increased understanding of the flavors and techniques of this comfort food and how to work with matzah as a key ingredient in a new and creative way.
GENERAL INGREDIENTS:
Eggs
Whole milk pot cheese, Farmer's cheese, cottage cheese (4% fat, preferred), or whole milk ricotta
Grated whole milk or part skim mozzarella cheese
Grated Parmesan cheese
6 squares regular (not egg) matzah (for an 8-inch pan) or 8 squares matzah (for a 9-inch pan)
Extra virgin olive oil
For Sauce:
NOTE: You can also use about 2-2½ cups of a good quality prepared tomato sauce to save time!
Onions
Flat leaf/Italian parsley
Fresh basil leaves
Kosher salt
Black pepper
Sugar
Canned crushed tomatoes
EQUIPMENT:
Measuring cups and measuring spoons
Chef's/chopping knife and large cutting board
Large skillet or medium sauce pot, for cooking tomato sauce
Large mixing bowl and spoon, for combining cheese-egg mixture
1 pastry brush, for brushing matzahs with oil
Large damp kitchen towel, for lining up wet matzah squares
Two 8- or 9-inch square baking pans (one for soaking matzahs and one for baking)