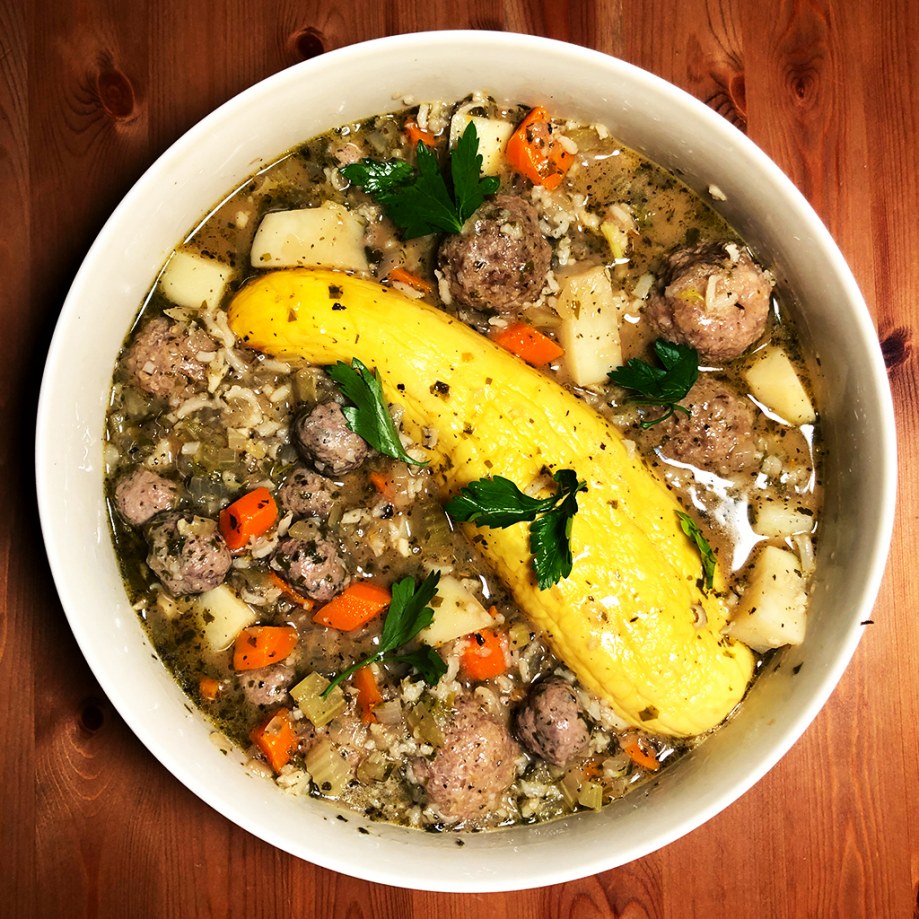 KIBBEH HAMDAH: CHEF TALK and COOKING PROGRAM on Syrian Sour Soup with Lemon, Mint, and Bulgur-Stuffed Meatballs
Cuisine & Diet:
Dairy-free, Gluten-free, Jewish, Meat, Mediterranean, Middle Eastern, Passover, Rosh Hashanah, Sephardic, Shabbat, Sukkot, Syrian
The word "el'kubbetun/kubbeh(tun)" is a 7th century Classical Arabic word for "ball," deriving from an old term for forming a ball of thread. Whether it's pronounced Kibbeh, Kubba, Kobeiba, Kibbee, or Koupes, nearly endless dishes made out of a ground meat and grain paste have been a Near Eastern delicacy for centuries.
Today, Muslims, Christians, and Jews from all over the world continue to prepare Kibbeh in a variety of ways: raw, fried as a stuffed pastry, baked in a pan, or most commonly formed into a meatball and stewed in a sauce or broth. In the Lebanese/Syrian version of Kibbeh Ney'yeh, raw ground lamb is combined with cumin, mint, cinnamon, and chopped onion, while in Kibbeh f'il Seneey'yeh, a ground spiced meat is stuffed in-between a bulgur and meat dough and baked in a pan. In a popular Iraqi version known as Kubbeh Selek, a semolina dumpling is stuffed with ground beef, paprika, and cumin and stewed in a tangy red sauce of tomatoes, beets and lemon. And in the well-known Kibbeh Nablisee'yeh (named after the Palestinian city of Nablus in Israel's West Bank territory) a bulgur crusted torpedo pastry stuffed with spiced meat is deep fried and served with a squeezed lemon.
In this hands-on cooking lesson, Jennifer will teach her family's secret Syrian Kibbeh Hamdah recipe — a lemony soup of mint, parsley, and vegetables, with bulgur-stuffed meatballs and a whole steamed squash. Participants will come away with an increased understanding of the flavors and techniques of this classic dish, and learn what makes it so special to Jews, Christians, and Muslims of the Near East and in the diaspora around the world.
GENERAL INGREDIENTS:
Ground lamb or beef
Low- or no-sodium beef stock
Long-grain white rice (if you have a meat or spice grinder) or fine-grain bulgur wheat (coarseness #1) or Cream of Rice cereal (if you don't own a grinder)
Kosher salt
Black pepper
Ground allspice
Dried mint
Lemons
Flat leaf/Italian parsley
Onions
Garlic
Celery
Carrots
Yellow/summer squash or zucchini
White potatoes (any kind)
Frozen and defrosted peas (optional)
EQUIPMENT:
Measuring cups and spoons
Large chef's/chopping knife and cutting board
Food processor
Spice grinder or meat grinder (if using raw rice for outer meatball shell)
Medium size mixing bowl
Small bowl with cold water, for rolling meatballs
Tray or large plate, for holding finished meatballs
3- or 4-quart soup pot with lid
Mixing spoon