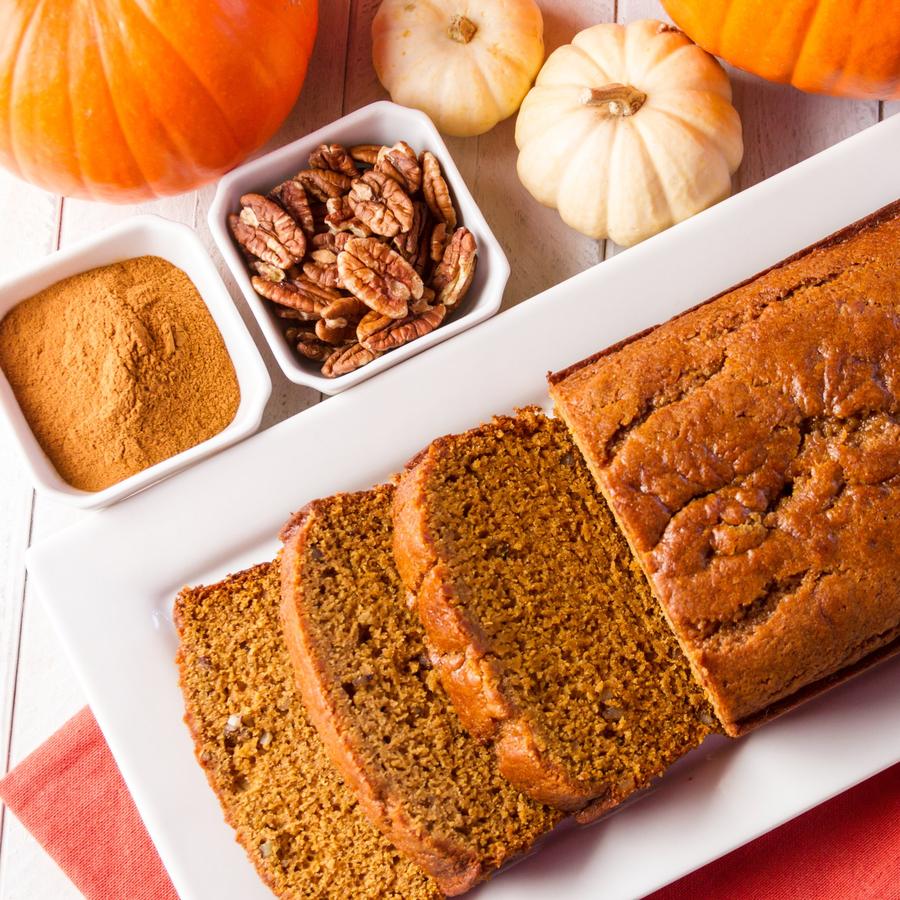 HEALTHY HOLIDAY DESSERTS! CHEF TALK and COOKING PROGRAM on Vegan Pumpkin Bread AND Gluten-free Peanut Butter-Chocolate Chip Cookies
Cuisine & Diet:
American, Dairy-free, Gluten-free, Hanukkah, Kid-Friendly, Shabbat, Sukkot, Sweets & Desserts, Thanksgiving, Vegan
The holidays are here, baking is in full swing, and dietary restrictions abound! But what to prepare for those with a sweet tooth who love to bake, but are looking for a healthier alternative to the usual confections?
In this baking class students will learn how to use healthful ingredients in a natural way that won't compromise the quality of the cake or cookie. Seasonal ingredients such as pumpkin, maple syrup, fresh ginger, cinnamon, and cloves will be incorporated to create a moist and flavorful cake without the use of refined sugars, eggs, or dairy. For cookie lovers, creamy peanut butter combined with crushed peanuts, vanilla and dark chocolate chips will come together in a sweet & salty confection that is crumbly yet completely flourless and gluten-free.
This family-friendly, interactive, hands-on seminar will teach you how to easily create two different types of baked desserts — one gluten-free and a second vegan — that are both dairy- and guilt-free. Participants will come away with an increased understanding of how to incorporate common, easy-to-find ingredients into healthier desserts that are perfect for the fall and upcoming holidays!
MENU:
Vegan Pumpkin-Ginger Bread

Gluten-free Peanut Butter-Chocolate Chip Cookies
GENERAL INGREDIENTS:
Smooth peanut butter (can be salted or unsalted but not chunky kind)
Egg
Ginger root or ginger paste from a jar
Vanilla extract
Safflower, canola, olive, or coconut oil
Canned pumpkin or butternut squash puree
Maple syrup
Vanilla or plain soy milk
Cider vinegar
Whole wheat flour
All-purpose flour
Ground ginger
Ground cinnamon
Ground nutmeg
Ground cloves
Baking powder
Baking soda
Brown sugar
Kosher or sea salt
Pumpkin seeds (optional)
Chocolate chips or mini chips (can also use dairy-free chips)
Salted or unsalted peanuts (optional)
EQUIPMENT:
Measuring cups and spoons
2 mixing bowls and mixing spoons
1 or 2 baking sheets/cookie sheets
Parchment paper (for lining loaf baking pan for cake and baking/cookie sheet for cookies)
Standard loaf pan or large cup muffin tin (Texas size) or standard muffin tin (+ paper or silicone baking cups)
Rubber spatula
Box grater and peeler (if grating fresh ginger root)