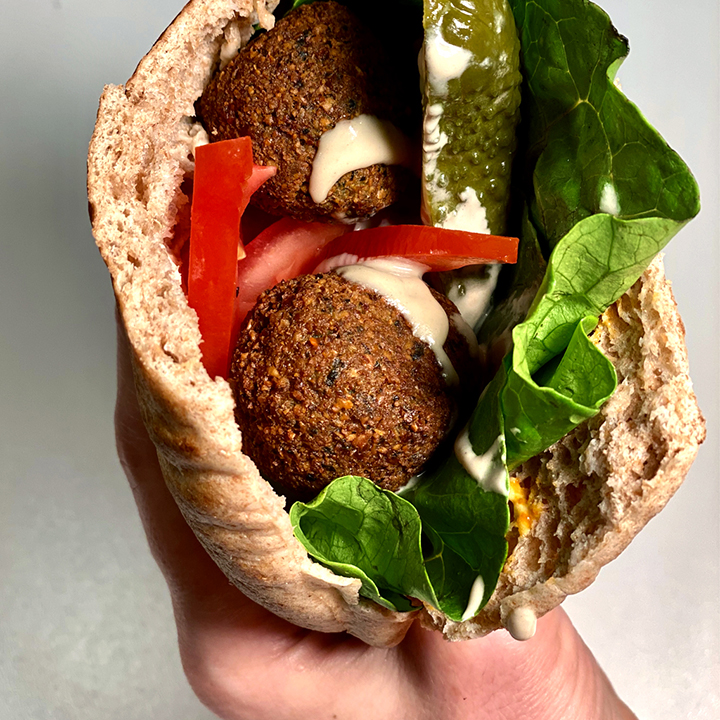 FALAFEL: CHEF TALK and COOKING PROGRAM on The Original Veggie Burger!
Cuisine & Diet:
Dairy-free, Egyptian, Gluten-free, Hanukkah, Israeli, Mediterranean, Middle Eastern, Sukkot, Vegan, Vegetarian
What makes falafel so versatile, and where does it come from? Learn a little bit about the history of one of the world's oldest fast food and how to make it at home!
Falafel —deep-fried chickpea balls served on a platter or stuffed into a pita pocket — are a common street food in the Middle East. While the true origin of this ancient dish is still up for debate, some historians theorize that fava bean croquettes were prepared by Egyptian (Christian) Copts looking for a meat replacement during Lent. As the recipe traveled through the Levantine regions of Israel, Palestine, Jordan, Syria, Lebanon, Jordan, and parts of Turkey and Greece, fava beans were eventually replaced with chickpeas.
Over the last few decades these crispy golden fritters have become a popular plant based menu option for both high-end and fast food restaurants throughout the world. Naturally vegan, falafel are now the go-to dish for those seeking a healthier non-dairy/vegetarian alternative.
This interactive hands-on seminar will teach you how to prepare three different versions of falafel (traditional deep-fried, pan-fried, and baked) and how to serve it stuffed in a pita (street food style) or on a platter (restaurant style). Vegetarians, vegans, and meat-eaters alike will be excited to learn how to recreate one of the most loved street foods in their own kitchens. Participants will come away with an increased understanding of the flavors and techniques of this popular food and how it continues to evolve in the world today!
GENERAL INGREDIENTS:
Dried chickpeas OR canned chickpeas
Baking soda (if using dried chickpeas)
Baking powder
Kosher salt
Ground cumin
Ground coriander
All-purpose flour, chickpea flour, or rice flour
Vegetable, canola, safflower, grape seed or peanut oil
Pita bread loaves
Cucumbers and tomatoes
Garlic
Onions or scallions
Coriander or Italian/flat parsley leavesSour pickles cut in half lengthwise (depending upon how large they are)
EQUIPMENT:
Measuring cups and spoons
Large chef's/chopping knife and cutting board
Mixing bowl and spoon
Small 3- or 4-cup saucepan for deep-frying, non-stick skillet for pan-frying, or large baking pan for baking
Plate with paper towels to drain falafel (if frying falafel)
Pastry brush (if baking falafel)
Food processor