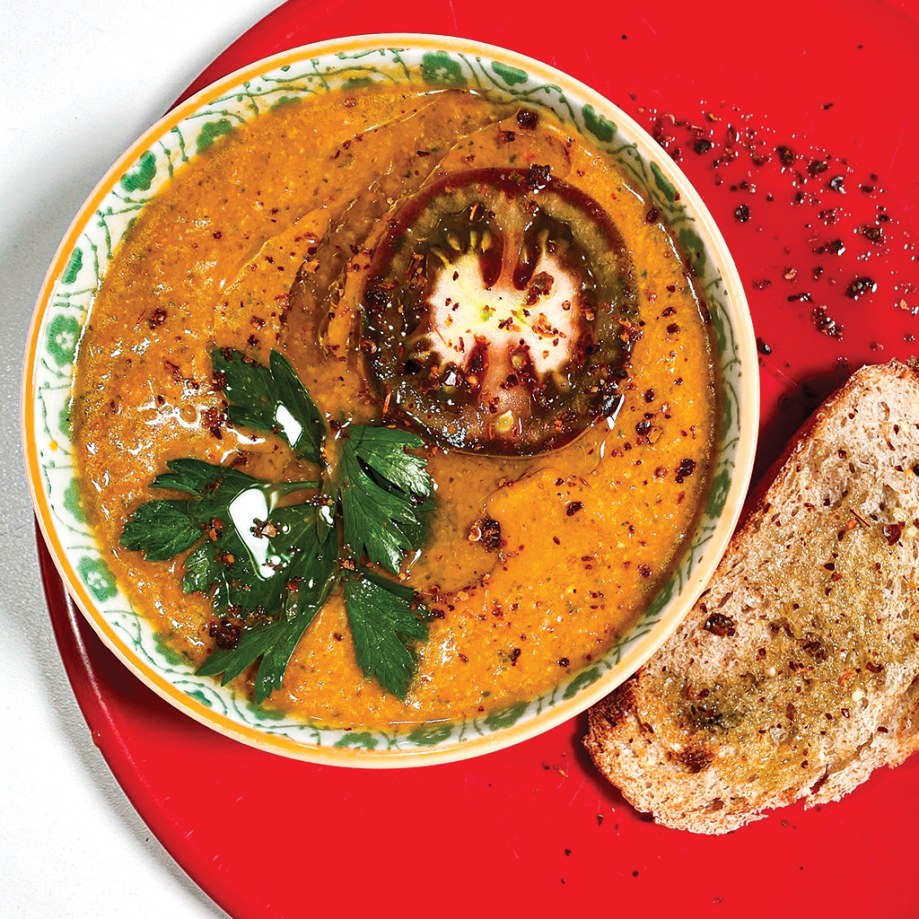 ANDALUSIAN GAZPACHO: CHEF TALK and COOKING PROGRAM on Chilled Spanish Soup with Tomatoes, Balsamic, Cumin and Coriander AND White Wine Sangria Spritzer with Lime, Peach, Mint
Cuisine & Diet:
Dairy-free, Mediterranean, Spanish, Sukkot, Vegan, Vegetables, Vegetarian
Take a trip to Andalusia where earthy North African spices mingle with Southern Mediterranean flavors in a cold and refreshing soup that has become synonymous with Spanish cuisine. There are many variations of gazpacho ranging from the most popular red style prepared with tomatoes and bell peppers as its base, to a green version with herbs, or a white version called Ajoblanco made with ground almonds and garnished with sliced grapes or melon. But how and when did this versatile soup start incorporating tomatoes and peppers and turn this soup red?
There are several cultures that influenced and contributed to the classic tomato gazpacho. The base of the soup — a paste of bread, olive oil, vinegar, garlic, and salt — has roots in Roman Hispania from the 3rd to 5th centuries, while during the 8th to 12th centuries the Moors incorporated ground almonds into the mixture. But it wasn't until the 16th century — when Spanish conquistadors and explorers would travel to central and southern Mexico and bring back the tomato and various peppers to Spain — that the rustic paste would evolve into a more refined red soup.
Sangria is a type of Spanish and Portuguese/Iberian drink made of red wine mixed with fruit. The name "Sangria" comes from the Spanish word sangre meaning "blood," which describes the color of the drink and recalls the blood of Christ. At least as far back as the second century BCE, Roman winemakers began mixing their wine with water and fruit (such as grapes) in order to dilute its alcoholic effects. But it wasn't until much later in the 18th century — with Spain exporting its wine to the Caribbean — that the drink would come together as a popular punch of tropical fruit, wine, and nutmeg known as West Indian Sangaree.
This interactive hands-on seminar will teach you how to make two refreshing dishes that will transport you to the Mediterranean. In this hands-on cooking lesson, participants will learn how to easily prepare an Andalusian gazpacho that is full of Southern Spanish and North African flavors. A light and refreshing white wine sangria with sliced apples, limes, and summery juices will also be prepared using seasonal fruits. Participants will come away with an increased understanding of the intermingling flavors of southern Spain, and learn what makes both dishes such perfect treats for a hot summer day!
GENERAL INGREDIENTS:
Persian or Israeli cucumber
Red and yellow tomatoes
Red bell pepper
Green bell pepper
White onion or scallions
Garlic
Coriander (cilantro) or parsley leaves
Fresh mint leaves
Orange, mango, or peach juice (can be a juice blend or mix of juices)
Mandarin or clementine orange (navel orange okay)
Lemons or limes
Red and green apple
Blueberries, strawberries, peaches, nectarines (optional)
Cumin
Chili powder or cayenne
Sweet or hot paprika
Aleppo pepper flakes (optional)
Kosher salt
Sugar
Extra virgin olive oil
Sherry wine vinegar, balsamic vinegar or red wine vinegar
White wine vinegar
1 cup dry white wine (such as Sauvignon Blanc)
Cognac or brandy (optional)
Selzer
Ice cubes
Crusty white bread such as peasant or sourdough
EQUIPMENT:
Measuring cups and spoons
Large chopping or chef's knife and cutting board
Food processor and fine mesh strainer (if straining soup)
Large air-tight container with lid or mixing bowl
Baking sheet or pan plus pastry brush or folded paper towel, for toasting croutons
Small saucepan, for preparing syrup
1 large pitcher, for mixing and serving sangria
2 glasses, for serving sangria